Are Meal Deliveries Worth Your Money?
HEALTHY FOOD
11th September, 2023
Are Meal Delivery Services Worth Your Money?
The meal delivery system has become excessively popular in Dubai. It makes sense considering the hectic lifestyle of new-age professionals, with no time to cook. After a long and tiresome day at work, most people head to the gym or practice their favorite hobby to keep the creative juices flowing.
It's late when you get back home, and you are less likely to cook. Rather than looking for leftovers or ordering junk foods like pizza, prepared meal delivery seems like a pretty great option.
Grocery shopping and cooking your food have become tedious in our modern life. We work more, constantly trying to stay ahead, and want to just crash when we come home. What works best than having healthy and tasty food delivered to your doorstep? Meal deliveries save you from shopping, chopping, and wondering where to go for dinner.
People are leaning towards healthy eating habits. Some people follow special diets like vegan or keto or may be suffering from particular food allergies. Food deliveries prepare food while keeping in mind all the diet specifications and make life easier.
If you want to free up your schedule and eat a healthy and nutritious home-cooked meal, meal deliveries can be a life savior. Not just it brings discipline but also saves money. Yes, it's true, there are several benefits of meal delivery services in Dubai, but saving time and money tops the list.
Are you wondering whether meal delivery kit services are budget-friendly or not? Let us find out.
Top 5 reasons regular meal delivery services are worth it!
Reduce grocery bills
One of the most common misconceptions is that buying groceries and preparing your meal will save you money. Grocery shopping doesn't just stop at buying food. There are multiple costs attached to it. You generally pick up things more than you require or buy unnecessary stuff. The frequent trips to the grocery store include fuel bills as well.
The meal delivery services can acquire high-quality and fresh ingredients at lower prices because of the quantity they procure. That is why they can provide affordable meals. Secondly, the convenience of having a meal box delivered at home paired with the fact that you don't have to go out to shop, makes it worthwhile.
No food waste
Food waste is a common phenomenon in each household. No matter how carefully you plan still, you may end up buying stuff that ultimately finds its way to the garbage bin.
Most fridges have a rotting bag of half-used herbs, one beetroot dying a slow death and moldy tomato hiding in the corner. All this means you are wasting money without even realizing it.
Meal delivery services can help eliminate food waste from your monthly budget. The food delivered by us, at VMeals, is well-proportioned and prevents leftovers from getting piled up in your fridge. So, our servings are exactly what you and your body need.
For example, if your nutritionists set two servings in your meal plan, you'll receive precisely two servings. The quantity is enough to satiate your hunger and avoid leftovers.
Fresh and better-quality ingredients for less
The meal deliveries source some of the best ingredients and freshest of produces in large quantity. This helps them procure the finest ingredients at a low cost as they buy in bulk and from wholesale vendors.
However, when you go shopping grocery, you may or may not pick the best ingredients because of the price.
If you maintain sustainable living and prefer organic foods, you already know organic food comes with a hefty price tag. However, with us, you can simply select meals and enjoy the goodness of organic food at an affordable price.
Less temptation to dine out or order in
Dining out regularly and ordering food is a costly affair. It's not a secret that the expense of eating out daily can quickly show on your monthly budget. It costs you both time and money. Moreover, it can slowly start showing on your waistline.
The meal delivery service can save a lot of your time and money by motivating you to stay home instead of dining out.
Regular meal deliveries not only save money each week but also help build better eating habits. Over time, you may become accustomed to healthy eating options loved by both your tastebuds and waistline.
Fewer trips to the grocery store
The budget for grocery shopping is more than just the bill that you receive for the food purchased. It includes the gas bill, impulse purchases, and things you buy on sale. Meal delivery systems bring down your grocery bill and prevent you from frequent store visits.
Meal box deliveries address the woes of people who don't want to cook, are too busy to cook, or just hate the whole chore of shopping and gathering food.
They are the best solution if you want to gorge on fresh, tasty, and healthy food meals each day. The most amazing part about the service is that it's very affordable and easily fits your monthly budget.
Benefits of meal delivery service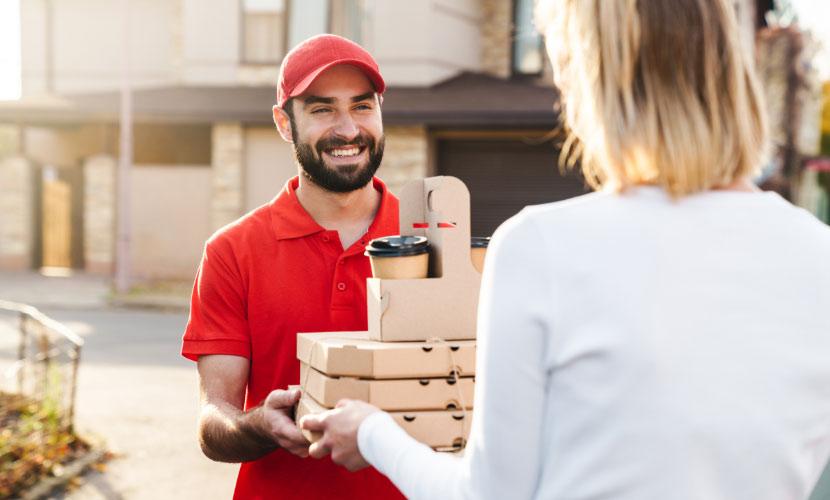 If you are still sitting on the fence and contemplating whether the meal deliveries are worth it, take a look at its excellent benefits.
Increased Convenience
Meal delivery is currently the most convenient eating option. It's a blessing in disguise for people who have a busy lifestyle. Subscribing to regular meal delivery plans can save a lot of time and frustration; simply because you can enjoy nutritious meals throughout the week.
Moreover, you do not have to worry about shopping, cooking, or even cleaning up. People who follow a fast-paced lifestyle need the right food that gives them the fuel to move ahead. .
Keep track of macros and calories
Most of us are interested in eating healthier. Your meals must support your wellness, whether it is losing weight or building muscles. For this, it is crucial to track your calorie and macronutrient intake. However, regularly tracking your macronutrients and calorie intake is not as easy as it sounds. Food prepared by meal delivery services like ours is prepared under the guidance of nutritionists and well-trained chefs.
For us, preparing a balanced meal plate is a breeze. For example, a typical weight loss meal plan includes calories between 1200kcal to 1600Kcal, and a muscle gain meal plan includes 2000kcal to 3000kcal. When you know what and how much you are putting in your mouth, it becomes easier to lose weight or gain muscle.
Portion control
Portion control is something most people struggle with. It is difficult to scale back your portions without feeling hungry. It is often contributed to overeating and unwanted weight gain. Consuming big portion sizes can leave you feeling sluggish. It may affect your productivity for hours following a meal.
With meal delivery services, your food is already portioned based on your requirements. We have a built-in portion control mechanism. It makes you consume your food in an appropriate amount.
Accommodate specialized eating plans
Diet preferences vary from person to person. Some are lifestyle choices, and some follow restrictive diets because of dietary restrictions. Keto and paleo are currently the most favorite ones. More people are embracing veganism for better health and environmental benefits.
When you have just started a particular diet, meal preparation can be tricky. It requires a lot of time and effort. The meal delivery system offers you the freedom to choose the right meal plan in a few minutes. Whether it's keto, vegan, gluten and dairy-free, all is possible with the right service.
Saviour for less experienced cooks
Cooking is a skill, and it requires time and patience to develop a skill. Most people dedicate a lot of time to their work. When your career becomes your priority, developing basic skills like cooking takes a back seat.
So, anyone who loves food but does not enjoy cooking can benefit from meal deliveries and get tasty meals multiple times a day.
Final Thoughts
Meal delivery services are the smart choices that you make for yourself. Hiring a professional service can save time and improve your health. Meal delivery undoubtedly can upgrade your health and streamline your schedule.
When it comes to convenience, meal deliveries take the stress out of weekly meal planning. We are one of the fastest-growing meal delivery companies in Dubai.
Our chefs prepare tasty and nutritious meals that are delivered fresh to your doorstep. We have several convenient meal plans to choose from that cover a wide range of dietary requirements. Subscribe to our meal plans for affordable nutrition.
Reach out to start your fitness journey with us!
Submit