Vegan Lunch Box Options for Office
VEGAN DIET
11th September, 2023
Vegan Meal Ideas to Order during Office Lunch Breaks
Being a vegan means eating fruits, vegetables, legumes, grains, and beans only. It excludes all animal-derived ingredients like meat, fish, eggs, milk, and other dairy products. Moreover, vegan is not just an eating preference, but an entire lifestyle.
A vegan is against animal cruelty and abuse of all kinds. They don't use clothing made of fur, wool, and leather. They avoid cosmetics, health, and skincare products that use animals for testing them. Also, if animals are used in the manufacturing of any product, vegans keep away from it.
It requires a lot of conscious efforts daily as being a vegan has its pros and cons. It can help in becoming healthy and in maintaining optimal weight.
Vegan diets are multiple combinations of fresh organic vegetables, legumes, grains, seeds, beans, plant-based protein, vegan meats, and vegan dairy products. But it's not too easy to cook vegan food since a lot must be kept in mind while trying vegan recipes. Spices, condiments, seasonings, and everything must be shopped carefully looking at the labels saying, "Vegan friendly".
Finding and having vegan delicacies outside the home and in restaurants is another major task as only a few food joints offer vegan-friendly dishes. Moreover, preparing vegan food for easy tiffin recipes is yet another challenging task in the morning while juggling family responsibilities, kids, work pressure, or other businesses. Therefore, we at VMeals provide you with many delicious vegan choices if you don't want to stress about cooking.
Let's discuss a few vegan lunch box ideas for the office we offer to our patrons:
Vegetable Tofu Scramble
Tofu is made from plant-based milk - soy milk - which is high in protein, calcium, and vitamins. It is the main food ingredient in most vegan recipes. It is washed, sliced, and fried before cooking in the sauce or tossing in stir fry noodles or rice with veggies.
It serves as an excellent option for office lunch. This is one of the most satiating, healthful, and tasty vegan lunches.
Curried Lentils with Potatoes and Cashews
Lentils are a smart option to have as a vegan. Lentils are high in protein and fibre. They are super healthy and fill the tummy quickly.
Lentils are cooked plain as well as with spices and veggies. This specific recipe uses tasty and healthy potatoes and cashew nuts for extra nourishment.
Puerto Rican Rice & Beans
This is another wholesome, flavourful, and fulfilling recipe for vegans. It tastes great and is packed with beneficial minerals, carbs, proteins, fibre, and vitamins for the growth and repair of the body.
Pinto beans curry is cooked separately, and white Basmati rice is cooked with green pigeon peas. The recipe gets its name from the Puerto Rican spice, Sazon, which is added to the recipe to give it a unique flavour.
Roasted Cauliflower with Hummus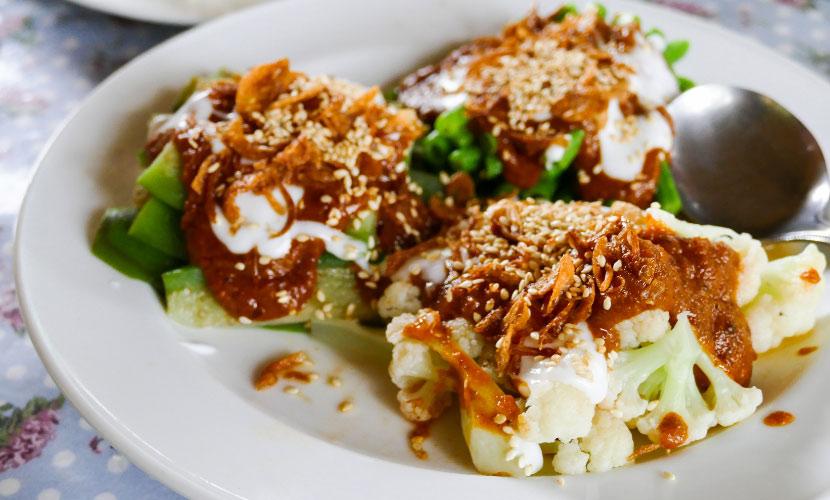 Hummus is an easy-to-make dip with chickpeas, salt, olive oil, garlic, cumin, tahini paste, lemon/lime juice, and red chili powder. This dip can be eaten with veggie strips or roasted or grilled veggies like cauliflower.
It's a nutrient-rich lunch for health-conscious vegans. Chickpea is rich in fibre, carbs, protein, and minerals and keeps the tummy feeling full for long.
Sticky Sesame Cauliflower
Cauliflowers are used in most vegan recipes. This Chinese vegan recipe tastes best with a side of sticky white rice and broccoli.
We deliver spicy and healthy dishes that are perfect for office lunchtimes. This recipe is among the most liked ones by vegans as well as non-vegans.
Chickpea Salad Sourdough Sandwich
Chickpea is another major food for vegans. It has a meaty flavour, and therefore, the taste is quite addictive. This is a quick fix to hunger kind of recipe.
We prepare this creamy, crunchy, savoury, and sweet sandwich with all the nutrients and taste intact. Sandwich is always a feel-good food and fills the tummy too while being a healthy snack.
Mexican Burrito Bowl
Burrito is a super bowl of nutrients and is a very fulfilling meal too. A burrito bowl consists of rice, grilled vegetables, grilled corn, black beans, quick Pico, chopped romaine lettuce, cilantro, and lime wedges.
It is not only a yummy dish but is also very fulfilling that helps you from overeating.
Buffalo Cauliflower Wings
The term "buffalo wings" typically goes for chicken as the main ingredient. But this vegan recipe with a twist of cauliflowers is sure to win the hearts of everyone (yes, non-vegans too!). The crispy spicy coating on the outside and the tender and juicy cauliflower on the inside is a delicious meal option with celery sticks, salad, mashed potatoes, and blue cheese sauce on the side.
It is a tummy filler for lunchtime. Call us at VMeals for trying this and various other vegan recipes and whole-food plant-based diet charts from our dieticians.
Pesto Gnocchi with Fried Vegetables
This is a lovely afternoon recipe for winter. It can be relished hot as well as cold. For all pasta lovers, this recipe is just perfect. Add your choice of vegetables to the pasta for a well-balanced meal.
This recipe is tasty as well as fulfilling and perfect for on-the-go meals preferred by those who don't have a lot of time to grab a heavy meal. Yet, it provides you with the nourishment your body requires.
Crispy Lemon & Black Pepper Oyster Mushroom Wraps
Vegetable wraps are fundamental food for vegans. Lots of vegetable variations can be stuffed in the wraps. For this recipe, oyster mushrooms, which have protein and fibre in abundance, are marinated in lemon juice, black pepper, other herbs, and seasonings and fried till crispy.
The mushrooms are marinated at night and fried in the morning and rolled up with veggies in a wrap.
Teriyaki Tofu Stir Fry
This is a delicious and nutrient-dense dinner. The teriyaki sauce and noodles are prepared and then combined and stir-fried with fried tofu and your choice of healthy and colourful vegetables.
This is a very satisfying and wholesome meal that tastes appetizing and can be served cold as well as hot.
Rice Paper Wraps
Also known as rainbow rolls, they are made with lots of colourful veggies, fruits, and plant protein options.
Crispy fried tofu, edamame beans, or chickpeas are added for enhanced taste and nourishment. It can be enjoyed with a slice of lemon and any vegan dip.
Spicy Chickpea Kale Salad
Kale is that one vegetable that most people dislike, but it's also among those green leafy vegetable which is a storehouse of essential nutrient and minerals. It is usually added to make green smoothies, sandwiches, and salads.
This recipe includes the very favourite chickpea and kale. The chickpea is roasted with spices, added to fresh kale leaves, and seasoned with sweet tahini dressing. It is a lip-smacking and health-pouring dish. Similar dishes are offered in our wide variety of healthy menus.
Creamy Garlic Penne Pasta
Vegan or not, pasta is a love of every foodie. The best part about pasta is that it can be relished at any temperature. Many people like it hot, many like it at room temperature, while many prefer it cold. So, this recipe can be enjoyed according to your preference.
Shallots, sun-dried tomatoes, garlic (of course!), spinach, and sliced courgette are the main ingredients of this creamy penne pasta.
Bottom Line
Vegan foods seem challenging to cook as it is not easy to get a hold of the ingredients and cooking style. Our health experts understand that everybody is different and, therefore, design these daily meal plans with personalized details that cater to your taste and needs.
Reach out to start your fitness journey with us!
Submit