Vegetarian Food Delivery Options in Dubai
Veg Meal Delivery Options in Dubai
Dubai is a hub for different cuisines and cultural foods. It has an array of meal options from traditional and local, to Indian, Pakistani, Lebanese, Italian, and global cuisines. Meat, especially mutton, and lamb, are staple meals. Fish and rice are other staple diets. Dates are an accompaniment to meals in Emirati cuisines.
But as much as meat-eaters, Dubai has a decent population of vegetarians, and some are even progressing towards a vegan lifestyle. Therefore, if you are planning to start a green diet for fitness or other health reasons, try our health experts' specifically customized plans for your unique body needs and goals.
In the busy lifestyles of Dubai, going out and relishing specific cuisines has become a struggle for people. Thus, our team offers healthy meal delivery options for the convenience of the customers. There are vegan, gluten & dairy-free, pescatarian, and other types of meal delivery options to choose from.
There are pros and cons of veganism, so one needs to search a lot for vegan takeaway options. Home delivery makes it easy to have whatever you feel like at home, in the office, or any place outdoors. Along with diets, our services extend to provide personalized health plans, including athlete diet plans, wellness plans, muscle gain meal plans, and others.
Let us discuss some of the Vegetarian items offered by us in brief.
Egg Shakshuka
Egg Shakshuka is eggs poached in a sauce made of tomatoes, olive oil, garlic, and peppers, and seasoned with cumin, paprika, cayenne pepper, and nutmeg. This is a Maghrebi dish that is mostly eaten in the Middle East and Israel.
It is usually taken at dinnertime in the Middle East, while in Israel, they serve it as breakfast. In some cultures and cuisines, eggs are considered Vegetarian.
Hummus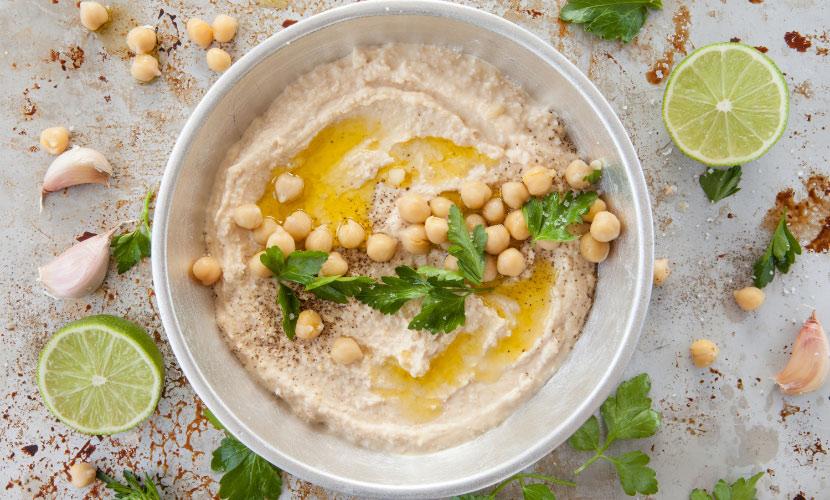 Hummus is the traditional food of Dubai and is easy to make too. It is a famous dish of Middle Eastern cuisine and is relished with a lot of many options. It is prepared with boiled chickpeas, olive oil, tahini paste, garlic, lemon juice, and salt.
All these ingredients are blended into a fine paste. Hummus is usually eaten with pita bread and lately being served with veggie strips as a healthy snack.
Falafel
Falafel is another tasty recipe prepared with chickpeas, spices, and other ingredients. It is a deep-fried recipe and enjoyed by one and all. It serves as a snack option and can be dished out with salads, spreads, wraps, and in rolls with pita bread.
This kind of fried food is good to relish occasionally, but one must train their mind to eat healthy food most of the time.
Tabbouleh
This is a vegetarian version of the traditional Arabian recipe. It is a delicious salad made of green onions, tomatoes, and cucumber, and is seasoned with fresh lemon and mint juice.
It is a healthy salad recipe that satisfies hunger as well as benefits the body. This healthy Arabic food is one of the hot-cake items and is loved by our patrons.
Fattoush
Fattoush is another healthy recipe loved by fitness freaks, travelers, or other individuals searching for healthy quick bites. It is a Levantine bread salad that is made by using fried or toasted slices of pita bread.
This type of dish can be even taken while on a weight loss meal plan.
Mehalabiya
It is a must-have Emirati pudding to enjoy after a spicy meal. Considered a quintessential addition to a proper meal, you will keep wanting it more once you get a taste of it.
Mehalbiya is prepared with quality ingredients, including pistachios, rose water, and other components that give the required flavour and suffice your health needs.
Kousa Mahshi
Kousa Mahshi is the main course dish prepared with a courgette or zucchini stuffed with rice.
If you don't or can't eat gluten or dairy products due to health or fitness reasons, try our specially designed gluten and dairy-free diet to enjoy delicious and healthful recipes like this one.
Baba Ganoush
This eggplant dip serves as a starter dish. Prepared with smoked eggplant, onions, tomatoes, and olive oil, Baba Ganoush is a delicious and healthy appetizer.
Delve into our vegan diet plan to access a range of healthy vegan recipes like Baba Ganoush.
Fatteh
This is best eaten as an early evening appetizer. Fatteh is a three-layered dish. The first layer is stock-soaked bread which forms the foundation of the recipe. The second or middle layer consists of chickpeas and stuffed aubergines.
Finally, the toppings are made of yogurt and tahini sauce. It can be savoured with pine nuts and paprika for an enhanced taste. Contact us now to try many more tasty and healthy recipes curated by our health experts at VMeals.
Maroubra
Madrouba is a healthy food that is cooked with chicken or other meat as well as with fresh vegetables.
The flavours of this mouth-watering dish come from onions, tomatoes, garlic, and many healthy spices. As such, it is not only a treat for your taste, but also a boon for your nutritional needs.
Healthy red rice noodles
This is a gluten-free rice noodle recipe. The noodles are tossed and cooked in scrumptious vegetables and chili sauce, a combination that balances the heat of the chilies and gives a delicious taste.
These noodles are eaten with a side of freshly stripped and crunchy vegetables.
Rainbow power salad
This, as the name suggests, has an array of colourful veggies like carrots, courgettes, beets, and roasted chickpeas, fruits like creamy avocado, crunchy nuts, and Gruyère cheese.
This salad tastes sweet and has a creamy and nutty texture. A well-balanced meal of this kind is significant for the growth and development of the body.
Mexican Brown Rice
Mexican Brown Rice is a healthy rice recipe. It is cooked with white rice, tomatoes, garlic, onions, and other spices and seasonings. The reason for calling it brown rice is because the rice is initially fried in oil or fat until it turns brown, and then the vegetables and flavourings are added.
If you are a vegetarian who eats eggs, you can add them too for a protein-rich version, due to the numerous benefits of protein.
Immunity-booster drinks
Having a glass of an immunity booster drink or smoothie daily in the morning will prevent diseases and shape up the waist and belly. If you order it from VMeals, we prepare it freshly with a combination of citrus fruits like orange, apple, lemon, and grapefruit for flavour, ginger, and turmeric for immunity, and cayenne for its fat-cutting properties.
These kinds of drinks are extremely beneficial to your body and serve as foods for healthy skin and beauty.
Black Bean Protein Burger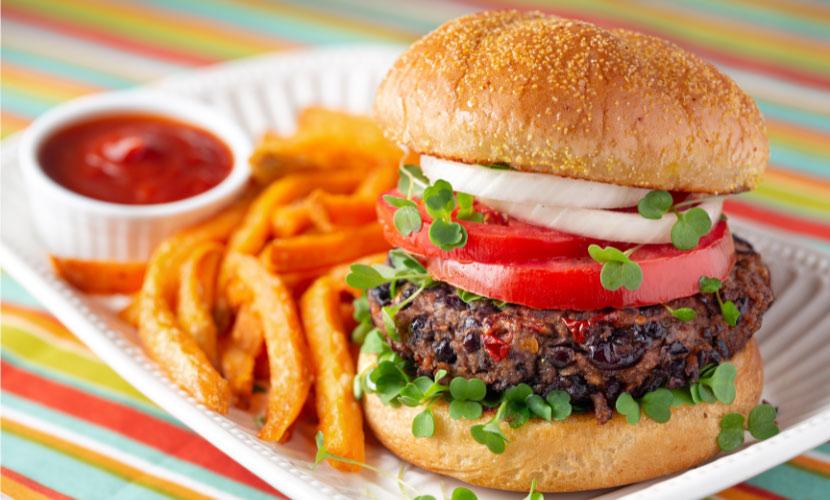 They are healthy snacking options between meals and are an abundant source of protein. Meat patty can be swapped with potato or chickpeas patty, and lots of veggies and low-fat sauces can be added.
These burgers are packed with vitamins, fiber, and minerals and are very low in fat and cholesterol. Thus, you can always try swapping ingredients according to your health and eating preferences to save more calories.
Final Thoughts
Eating healthy and staying fit is the goal of every individual. That&aposs also one of the reasons some people turn towards being vegetarian. Eating vegetables like potatoes in potato kebabs and mashed potatoes in meals provides multiple health benefits.
But at times, due to work pressure, family responsibilities, or other business, we cannot dine out or prepare food for ourselves. Thus, our affordable food delivery services make it easy to enjoy hot, fresh, and delicious meals at your doorstep.
So, the next time your hunger pangs crave a plate of kimchi tofu with penne arrabbiata, a bowl of paneer chili with quinoa salad, or relish a blueberry cheesecake, give a ring and order a quick and healthy meal from us.
Reach out to start your fitness journey with us!
Submit