7 Healthy Arabic Food You Must Try
7 Healthy Middle Eastern Food You Must Try
"Good health is a crown on the good person's head that only the ill person can see." – Arabic Proverb
Isn't it true enough? Our eating habits have lately shifted dramatically. We have been pushed towards unhealthy diets given our hectic schedules and long hours of work, and that is not the smartest choice.
We believe that it is essential to maintain a healthy diet because there is a relationship between stress and food choice. Your food choice will affect your mood and health. Wise choices of food can keep you young and healthy.
A healthy diet consists of foods that are high in nutrients from all dietary groups, such as lean proteins, whole grains, essential fats, and colourful vegetables. A good meal doesn't have to be overly complicated. The foundation of a sound eating routine is making smart swaps that save a lot of calories.
If we talk about Arabic people, they are quite traditional, eating the same foods for a long time. The usual meal of Arab villages is far less complicated than that of metropolitan cities. Nonetheless, the essential ingredients are similar: fava beans, wheat, rice, yoghurt, dates, and chicken are staple food sources for all. Also, they grow almost 400 different date palm varieties.
Arabian countries' food culture has grown dramatically from encompassing districts so that people can have a lovely assortment of local dishes and global cuisines to explore. The main attraction is that Middle Eastern cuisines offer a wide variety of fascinating and healthy dishes that satisfies both vegans and meat-eaters. As a result, you may now consume great meals while remaining healthy because you are what you absorb.
7 Healthy Arabic foods you need to get your hands on
Hummus
Hummus is one of the most diverse Arab cuisines and is arguably the most well-known food in the Middle East. It can be utilized as a dip for everything from bread to veggies to falafel, as a sandwich spread, or even as a base for a serving of mixed greens dressing.
If you order hummus as a side dish or starter at a restaurant, it will usually arrive in a bowl, drizzled with olive oil, and accompanied by flatbread or pita.
Fundamentally, hummus is a velvety mix of cooked chickpeas, olive oil, lemon juice, garlic, and tahini (sesame seed glue). Hummus comes in a variety of flavours, including dark olive, garlic, and red pepper.
It's difficult to beat hummus when it comes to Arab healthy eating. Protein, as well as fibre and iron, are abundant in chickpeas. Furthermore, olive oil is high in monounsaturated fat, which is healthy for the heart.
Tabouleh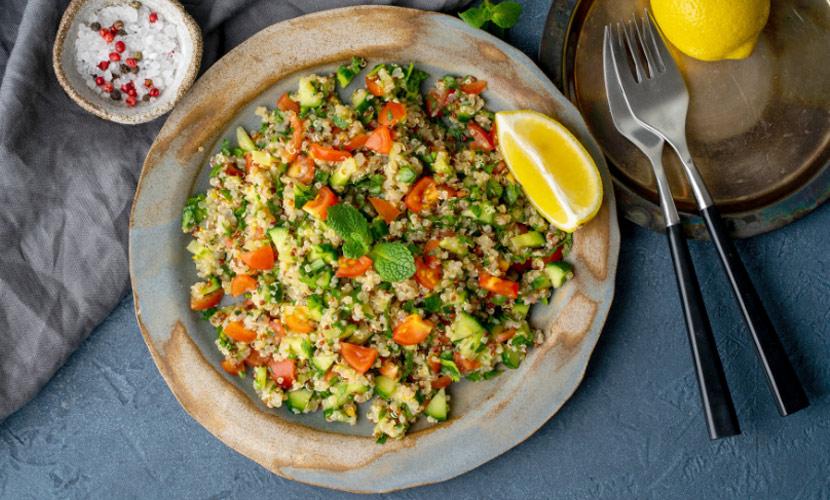 Tabouleh is outstanding amongst other Middle Eastern side dishes. It's also known as tabouli and comes in a variety of flavours. If you're looking for a low-fat vegetarian dish that's also gluten-free, this is an excellent pick.
This food is made by consolidating tomato, bulgur, spring onion, parsley, and mint. The last dressing of lemon juice and olive oil gives it its ordinary delightfulness.
Whenever you want to have a delightful vibe of Middle Eastern cooking, just check Tabouleh out. Many nutrients and minerals are present in the meal. It's high in dietary fibre and low in saturated fats, which help to keep your immune system strong and reduce the risk of cardiovascular disease.
Shawarma
Shawarma is a delicious Arabic food item that is healthy and tasty. It tastes so good that once you have a bite of it, you won't be able to stop yourself.
People usually like to have it at a café or restaurant mainly because the meat is ready and simmered. It starts with an enormous cone-like piece of prepared meat broiled on a gradually turning, vertical rotisserie or spit.
Traditionally, shawarma cones are made from sheep or lamb. However, you may find that it is now made from other meats, such as beef, chicken, turkey, or veal. As it boils, the person who prepares it utilizes a very sharp butcher's blade to cut off meagre bits of the delicate meat onto a big plate. He serves it all alone as a bite or on a supper platter joined by fries, hummus, falafel, tabbouleh, as well as a flatbread.
Falafel
Falafel is a mainstay of Middle Eastern food, and you will discover it in pretty much every Middle Eastern café and meal delivery service menu. It is generally filled as a sandwich in a pita or flatbread wrap and finished with hummus, tzatziki, or tahini.
Its preparation starts with dried chickpeas or fava beans ground into a supper and afterwards doused. Next, the combination is mixed with garlic, onion, and flavours like parsley, coriander, and cumin. At that point, it is shaped into a patty or ball and pan-fried until brilliant brown.
Like hummus, falafel contains lots of protein. It's additionally a decent wellspring of solvent fibre, which is said to assist with bringing down LDL (terrible) cholesterol.
Labneh
A mezze staple produced using cow's milk; labneh might be the soundest Lebanese food of all. However, if you are searching for a refreshing, light, delightful, and adaptable Middle Eastern variety, you will, in all likelihood, can go gaga for this mild cheddar.
In reality, labneh is a sort of yoghurt cheddar. It is thicker than the thickest Greek yoghurt, yet it's not tart or sharp in taste. You can pair this food with olive oil and a new pita and can relish a nutritious breakfast. You can slather it on a pita to make a delicious lunch too.
Labneh is outstanding amongst other probiotic food sources and offers various solid microbes to support your system. It's high in protein and low in calories, and it's unexpectedly good for your health.
Bulgur Salad
In case you're searching for a classic winter salad that is full of fibre and supplements, look no further than a bulgur salad.
Bulgur wheat is perhaps the most underrated grain, yet it's pretty adaptable and loaded with fibre. It's a typical Middle Eastern staple and comes in different sizes — from extremely fine to coarse granulate (with a comparable cook time to rice).
It's crunchy and nutty, with a lovely tang and a hint of spice from the pomegranate and lime juice, and freshness from the parsley and green onion. It's the ultimate flavouring balance, gets ready in no time and provides the right combination of aromas.
Mejadra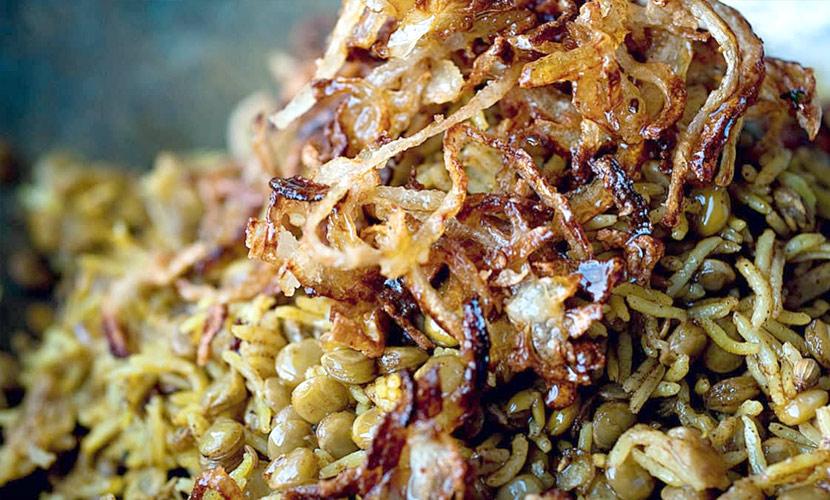 Mejadra is a pilaf and positions amongst the best solace food varieties. In a pot, lentils and rice are mashed together, then seasoned with a variety of spices, including a lot of cumin.
It creates a fragrant combination that is then finished with seared onions to give the lentil and rice mix a crunchy contrast. Arab food varieties have soared in prevalence, procuring a spot in the highest level of best worldwide cooking styles.
While they're frequently called Arab dishes, these food sources come from distant Morocco, Israel, and Lebanon. They bring new and mouth-watering flavours, smells, and fixings to the supper table. The best part is that it is brimming with good fats, lean proteins, veggies, and organic products, like those on the Mediterranean eating regimen.
Summary
Changing your eating habits doesn't have to be a massive task. You don't have to be flawless; you don't have to exclude food sources you enjoy, and you don't have to change everything at once. All you need to do is train your brain to eat healthy. And you must make some informed decisions.
Eat healthy and stay fit - this should be the melody of our life. But this isn't always the case. We understand the significance of leading a healthy lifestyle. However, we understand your situation and the fact that you frequently miss meals. Now you don't have to.
With us, you can be on your diet; you can eat healthily. We have brought together a team of chefs and nutritionists with commendable experience to impact your life positively. We care for our clients and hence we offer personalized services tin the form of daily healthy meals that will help to reach your dietary goals.
Reach out to start your fitness journey with us!
Submit