Breakfast Ideas for Pescatarians
7 Delicious Breakfast Ideas for Pescatarians
It is not rare for people to have different food preferences. Broadly, based on food and eating habits, there are seven types of eaters. These are – vegetarians, non-vegetarians, vegans, omnivores, carnivores, pollotarians, and pescatarians.
This article covers the last category of people with seven delectable and nutritious breakfast ideas.
Who is a pescatarian?
Pesca translates to fishing in Spanish and fish in Italian. It is one of the latest additions to the eaters' categorization, with the term being coined as late as the 1990s, even though it has existed for centuries probably.
When a person's primary diet is fish and seafood, it is known as a pescatarian diet . Another important aspect of this diet is eating vegetables, fruits, whole grains, legumes, eggs, nuts and seeds, dairy, and other non-animal meat foods.
Health benefits of a pescatarian diet
Rich source of omega-3 fatty acids that supports the heart and brain in normal functioning. Fish is also a good source of lean protein, helping maintain the required daily intake of protein for the body.
Other nutrients like vitamins and minerals are found abundantly in different seafood species that help keep the body healthy.
7 Attractive breakfast options for Pescatarians
It is not mandatory to include fish in a pescatarian breakfast. It could be the traditional eggs, bread toasts, tacos, burritos, yogurt, fruits, wraps, etc. There are a variety of salads too. However, if you wish to include seafood in your breakfast, here are some options:
Shrimps and grits
This recipe belongs to the Cajun cuisine known for being rustic as these are mostly made from locally available ingredients. One good part is that the preparations are mostly simple. Be it a busy weekday or a relaxed weekend; you can make it in minutes at home. If not, the option of ordering healthy meal plans delivered to your doorstep in Dubai is always there!
The cuisine typically consists of three pots, of which one pot essentially contains seafood. Shrimps, crawfish, and the likes are staple items used in preparing a range of Cajun dishes.
The shrimps and grits dish is a good and healthy way to start the day. The combo works excellently because grits from ground corn can be adjusted according to taste. It could be simple, sour, or sweet; these are easy to make and have plenty of nutritional benefits.
This breakfast option has grits topped with creams and shredded Cedar cheese, with the final topping being the Cajun shrimp mixture. The mixture has garlic, pepper, onion, and tomato sauce. You could alternately use sliced cherry tomatoes. The shrimps need to be sauteed with this mixture first.
Benefits: A low-carb food that has minimal fat, the dish is high in proteins. It also contains good essential vitamins like B12 and iron, iodine, and copper.
Egg scramble topped with salmon
Another tasty nutrition-rich breakfast option is to go in for scrambled eggs with salmon. The biggest advantage is that the dish can be made fast. Take one or two eggs, crack them in a bowl, whisk them and add to the frying pan. Season with paprika, salt, or pepper. A bread toast makes this dish complete in every sense.
Use farm-fresh eggs for the best taste and a healthy beginning. Add fresh or dried dill for an awesome flavor. Serve the dish with Greek yogurt preparation.
Benefits – The combo is one of the most nutritious dishes for your breakfast. Egg contains folate, Vitamin B12, A, E, D, B5, selenium, Iodine, Phosphorous, and Iron. Salmon is the best source of omega-3 fatty acids and essential nutrients.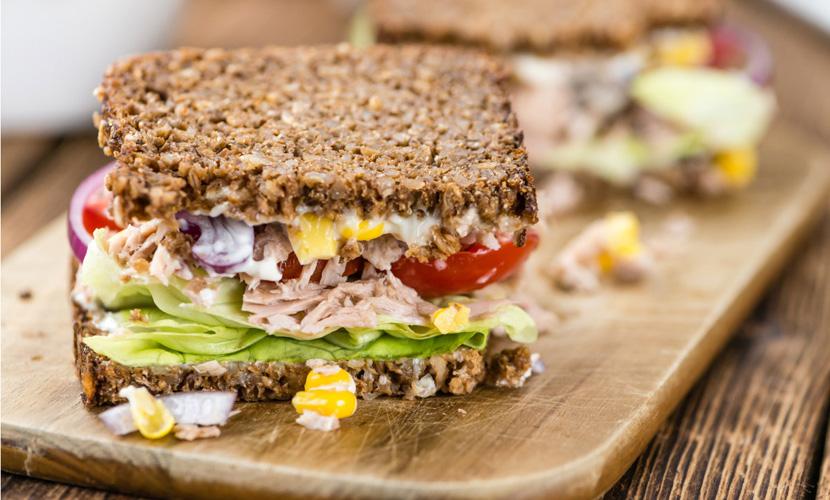 Canned tuna sandwich
Canned tuna is used to make this sandwich at home. It is important to get good-quality canned tuna. The fish should be packed in extra virgin oil since it reinforces the flavor. If the oil is too much, it can be drained off before making the sandwich.
Another way to add taste to the tuna mix is to add cheese cottage. It makes the mix creamier. Must add-ons include parsley, a bit of mayo, onions, lemon juice, celery, and capers. Use capers sparingly because they have a typical salty or olivey taste. To make it healthier, add fresh green veggies like cucumber or spinach. Carrots, red bell pepper, and zucchini are other toppings that can be added.
The bread slices should be thick to hold the tuna mix. Go in for whole wheat, rye, or sourdough slices of bread. When using the standard white bread, make sure to toast it first to prevent sogginess.
Benefits: Tuna is a storehouse of nutrients. Essential vitamins like A, B12, and B6 and minerals like potassium, zinc, iron, and magnesium are packed in this aquatic species. Tuna is also a storehouse of omega-3 fatty acids. If you wish to cut down on the carbs and fats, go in for packed tuna in water and replace the bread loaves with lettuce.
Salted and Smoked Herring
Kippers or smoked Atlantic Herring is a popular choice with pescatarians. It is best relished with bread, toast, fried potatoes, and eggs. That's the old-school way of having kippers.
If you wish to get adventurous with your breakfast menu, you could try to drizzle the fish with sauteed onions, olive oil, and lemon juice. Japanese variations consist of steamed rice and miso soup. You can go the Swede way, too – try vinegar-soaked pickled Atlantic Herring with hardboiled eggs, new potatoes, and sour cream.
Benefits: Herring is a storehouse of nutrients. High on Omega-3 fatty acids, these fishes make your breakfast low on calories and high on proteins. Plus, there's calcium, Vitamin D , A, E, and B-12. Herrings are a rich source of phosphorous, iron, zinc, and potassium as well.
Salmon Patty
In a pescatarian diet, salmon is an integral part. Cakes or patties made from canned salmon mixed with breadcrumbs, pepper, onion, and eggs make for a healthy snack . Shallow frying is a healthier option than deep frying the cakes. The accompaniments could be boiled eggs, grits, or waffles.
Salmon cakes, even if fried, are a healthy diet for busy people . You could add seasonings like paprika, lemon juice, mustard sauce, and garlic powder to pep up the taste. A bit of mayo wouldn't hurt too!
Benefits: This is one meal that will not leave you disappointed. It's tasty and filled with many nutrients. The essential fatty acids like eicosapentaenoic acid (EPA) and docosahexaenoic acid (DHA) present in this dish keep your heart and circulatory system robust.
Mussels with Bread
Start your day with protein-rich mussels. Pair them up with carb-rich varieties of bread. Garlic bread is a good option for early mornings. You could go in for bite-sized crusty bread too. The best part is this is an easy-to-cook recipe and takes no more than 10-15 minutes to prepare.
If you are looking for a healthier option, consider pairing mussels with fennel and cucumber salad. Add fresh dill for more taste!
Benefits: Like other freshwater and saltwater fishes, mussels are rich in EPA, DHA, and Omega-3 fatty acids. It keeps your heart strong and controls blood pressure . This dish is also good if you are trying to lose weight, especially the salad combo.
Sardine Tacos
This breakfast dish takes about ten minutes to prepare but, consider ordering a healthy pescetarian diet plan if you are in a rush. The sardine needs to be fried in olive oil until golden brown.
Prepare the tortilla with a dollop of mayo. Place the sardine on the mayo. Add lemon juice, carrots, onion, and cilantro for a delightful meal. You can also try sardine sushi roll, sardine pizza, salad, pasta, or sandwich.
Benefits: This small fish contains healthy fat, calcium, and iron. Also, since this species is small-sized, they have lower mercury levels.
Conclusion
These are a few selected nutrient-rich and resourceful pescetarian breakfast dishes. Hassle-free and easy to make, there is no compromise on taste or nutrition.
You could try cooking different variations at home. If you don't want to cook and are wondering whether subscribing to a meal plan delivery in Dubai is worthwhile or not, we can tell you to stay rest assured because we believe in delivering fresh and curated food tailor-made for your health.
Reach out to start your fitness journey with us!
Submit